Search Yourself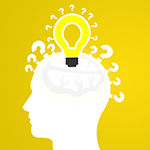 Think you're easy to find online? Maybe you constantly tell people to visit your Facebook page or follow you on Twitter. Many of our clients have come to us unsure why their social media isn't being found online or, worse, why their website isn't seen.
On Facebook, you have the opportunity to set your "username" through your account settings. This is a one time set-up, but it eliminates the numbers and gibberish in your facebook url. Make sure to pick something short, searchable, and easily remembered.
If your website isn't on the first few pages of keyword search results on Google or your favorite search engine - it may be time to invest in SEO. To compete online and be easily found you need to optimize your site for the keywords your audience will use to search for you To be sure that people will be able to successfully find you in a search, ensure your pages are optimized for your brand name.
Search yourself, then give Spore Creative a call and we'll help you make sure your audience can find you easily!