Do you REALLY need SEO?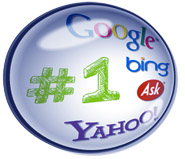 Many people believe "If you build it, they will come" in regards to their website. We often hear "I thought that my website would be easy to find online." In reality, there are hundreds of millions of websites with billions of pages – making search engine's job of indexing and finding those websites quite a chore.
SEO or Search Engine Optimization is the process of helping the search engine's find, index, and deliver your page to potential clients searching for keywords that describe your business, organization or web page.
When you type a keyword into Google and hit search, Google brings up the MOST RELEVANT search results for your keyword. Typically when doing a search, you select one of the links on the first 1-3 pages of Google search results. If your website isn't coming up in the first 1-3 pages (and especially the first 1-10 search results on the first page) your target audience is NOT finding you.
Don't think that having a GREAT website isn't still worth it. It absolutely is. Your Spore Creative website is already designed with Google and Search Engine's in mind. We create engaging, interesting and keyword rich websites that give you a leg up before you even start thinking about SEO. However, working with us to create a structured SEO plan for your website's online presence is crucial to ensure that you aren't being missed by potential clients.
If you're ready to drive MORE traffic to your website, to generate MORE business through your website, and to be SEEN by a larger web presence, contact us at 605-939-0199 or at This email address is being protected from spambots. You need JavaScript enabled to view it. today!